"This is jazz guitar as good as it gets, Greg should be heard world wide!" - Robert Yelin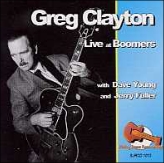 New: Greg Clayton Solo Transcription + Full Audio Track Download
click here

Greg was nominated for the 2008 Canadian national jazz awards in the Acoustic Band Of The Year catagory.

| | |
| --- | --- |
| | The Montreal Mirror's "Best of Montreal: Readers Poll 2005" placed Greg Clayton amongst the Top 10 of Montreal's best jazz musicians category which include such luminaries as Oscar Peterson and Oliver Jones. Click here to view the list. |
Born in Montreal, Canada, Greg Clayton was an early starter in music playing his first gigs at the age of 12. He continued working on and off through high school years in various bands, playing dances, 'battles-of-the-bands' and in his words "Every conceivable type of gig that a teenager can play."
After turning 18, his musical path led him to the downtown Montreal jazz scene. Greg says "I was lucky enough to catch the tail end of what was the great jazz era in Montreal. I frequented the various clubs such as Rockhead's Paradise, The Jazztek, Hotel de Province, Congo Room and the Black Bottom meeting and eventually playing with many of our legendary players here in town." "Guys such as Nelson Symonds, Charlie Biddle, Guy Nadon, Norman Villeneuve, Paul Revere, Billy Horne, Ivan Symonds were some of the first jazz cats that I had ever heard live. A few years later I heard Peter Leitch with Billy Robinson and guys like Maury Kaye and Richard Parris and that clinched the deal."
His first jazz influences on record were Charlie Parker and Wes Montgomery. But just as important for Greg, "the possibilty of seeing and hearing Nelson Symonds and/or Ivan Symonds on almost any night of the week for years was an opportunity I took full advantage of."
Greg Clayton, teaches jazz guitar and jazz improvisation classes at McGill University in Montreal and sites Grant Green, Jimmy Raney, Tal Farlow, Wes Montgomery and Joe Pass as his main [guitar] stylistic influences.
Greg can be heard on the following selected recordings:
John Labelle Too close for comfort JLP 0219
Richard Parris Body and Soul DSM records
Kevin's Heaven The Kevin Dean Quartet Double Time
George Evans I'm All Smiles M-Swing
George Evans Movie Songs Maximum Jazz Maz 16352
Dorothee Berryman PS I Love You TRICD 7220